The Club was officially formed in 1922, but has its origins in the Lymington River Sailing Club established in 1914 but suspended during the Great War.  There are traces of even earlier clubs on the Lymington River, but no documentation.

Tales from the Club's Fiftieth Anniversary
Club Historian Graham Clarke writes:
The Fiftieth Anniversary of the Club, in 1972, was marked by the production of a smart, glossy  booklet, that can be found in the History section of the Club's website.  It contained accounts and reminiscences of Members, whose personal experiences and recollections went back many years before that, to the very early days of the Club.  Twenty five years on, the 75th was celebrated, amongst other things, with a grand Fleet Review, of yachts, dressed overall, anchored in rows in the Solent.  The sailing instructions for that occasion are also posted in the History Section.  That latter occasion was early in Ian Gawn's time at the Club and he recalled the following vignette.
"The Patron could not accommodate the Commemorative Day in her diary, so the Principal Guest was the Lord Lieutenant of Hampshire, Mary Fagan.  Seafood was served on the forecourt during the day; the Fleet Review took place at the mouth of the River, and in the evening, there was a party in the Clubhouse, with some 700 people present.  Michael Webb and his team cooked half the meals, and the Club contracted out the other half.
The Club hosted the Commodore's Cup, and Member Don Woods arranged for his historic jet formation team to perform, as the curtain raiser.  During the event Ian had to tell the King of Norway's protection officer that his royal charge was not on the large yacht moored in the Solent but on the little one, in the Berthon boatyard."
It was in relating this episode that Ian had to explain to his then eight-year-old son, that the gentleman Ian had been welcoming to the Club was indeed the King of Norway, to which the response was, "Do you mean a King with a crown on his head type King?"
Yes, it was a special occasion, in a special year.
Centenary Documents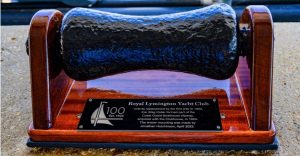 Historian's regular vignettes to titilate the reader