Times Gone By 1929 and 1932
From the PotterShip Spring 2000 – Page 11
Articles donated by James Horsfall & Richard Head.

Archivist Notes:
The top picture of the Paddler and the Lymington River Yacht Club dates the Clubhouse Development & Expansion  "as at 1929".
It is noted that in "Lymington 1932" article the Clubhouse has "been recently enlarged".
The West Solent One Designs:

What ever happened to them?
Have any been restored?
And now to the really interesting part:
The reference to the "Lymington Regatta on the West Solent on July 26th was a very old fixture revived"  in 1929 – Ones appetite is whetted to find out how far back it might have been an event – particularly to attract the "Big Cutters" of that era.
"Alarm" the first of the "Big Cutters" was built in Inman's Yard, which must have been situated close to our present Clubhouse in Lymington. She was built in the 1830.
I quote from 1902 Encyclopaedia > Yachting: http://www.1902encyclopedia.com/Y/YAC/yachting.html In 1830 one of the largest cutters ever constructed was launched, viz., the "Alarm," built by Inman at Lymington for Joseph Weld of Lulworth Castle, from the lines of a famous smugglers captured off the Isle of Wight. She was 82 feet on the load line by 24 feet beam, and was reckoned of 193 tons, old measurement, in which length, breadth, and half-breadth (supposed to represent depth) were the factors for computation.
Regarding Mr Joseph Weld – this article is worthy of note:
Joseph Weld – to the America's Cup 2003
http://www.martinstown.co.uk/WEBSITE/weld.htm
A fascinating story to read – but for our Archival purposes here i have extracted only the following:- In 1802 Joseph married Charlotte,  the daughter of Lord Stourton, and by way of a marriage settlement Thomas Weld settled the 2,000 acre Pylewell estate near Lymington in favour of Joseph. They lived in a smaller property on the estate, which with its frontage on the Lymington river enabled him to fully indulge his interest in yachts.
Pylewell a site that had been used for shipbuilding since 1688, if not earlier. The first cutter he built there was reputedly the Charlotte of 60 tons. Other cutters of note were two vessels, Julia, 40 tons and King Cole, 12 tons, both built for Joseph's younger brother, James. The first recorded Round the Island Race was won by Julia.
Between 1800 and 1811 Joseph was actively seeking and engaging in competitive sailing with anyone who would accept the challenge such as his neighbour Charles Sturt. There were also a growing number of gentlemen of a similar disposition who were indulging in their sailing pursuits from Lymington. The press of the day contained reports of various races, often referring to the yachts involved as "gentlemen's cutters".
In later years he is remembered as one of the first to build and handle fast-sailing yachts. One of his best-known boats was "The Arrow" which he built in 1821. She was 84 tons, originally 61 ft. 9 in. long, with a beam of 18 ft. 5in.
On 10th May 1830 he launced his most famous yacht, Alarm, from Inman's yard. She cost £20,000 (£1.10m today 2003) but exceeded all other cutters in terms of tonnage and was the final development of racing cutters at that time.
Alarm won the King's Cup in 1830 beating Mr Maxse's Miranda, in 1831 beating Lord Belfast's Louisa and in 1832 beating the Duke of Norfolk's Arundel. Lord Belfast gained some revenge in 1831 by beating Alarm with this Louisa for 1000 guineas in another match race. In 1833 she met Lord Belfast's new yacht Waterwitch and, in spite of beating her by over 34 minutes, was disqualified, as the Memorials of the Royal Yacht Squadron records, "as a result of Mr Weld's unfortunate habit of breaking the rule of crossing an opponent on the larboard tack".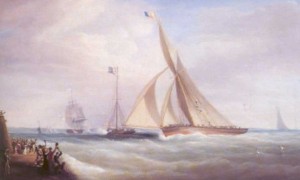 The cutter Alarm wins the Royal Yacht Squadron's Kings Cup in 1831
Alarm (shown above in her original form) was enlarged in 1852. She was one of the most famous of the early Squadron yachts. Probably as a result of America's influence, Joseph Weld had her lengthened by 20 ft at the bow, which was remodelled, and rigged as a schooner in 1852. This increased her tonnage to 248 tons.
Joseph Weld was both designer and builder and continued to be actively involved with Thomas Inman in the construction of all his vessels, even with the cutter yacht Lulworth built in 1857 when he was in his eightieth year. He died at the age of eighty-two years on October 20th, 1863. Local legend has it that he died at sea onboard his second but smaller cutter named Lulworth.
Acknowledgements to Gerald Duke 2002- 2003.
It would seem the RLym Clubhouse is built on the same land or at the very lest near it – that was Inman's Boatyard that built the first of the Great Cutters back in the late 19th Century – which culminated with Britannia and the J Class in the 1920's & 1930's. We are walking over our Yachting Heritage every time we go down to the Club