A short history of the Club's application to be granted the Title "Royal"
Geoff Holmes (former Commodore)
The Club was granted the right to use the Title Royal (that's how it's described in the records) in 1938 but it took fourteen years to get there.
The story involves the Crown and though neither George V nor Edward VIII are directly quoted, the grant of the title required Royal Assent and equerries and private secretaries are very active in the records.
Cabinet ministers make their appearance from time to time as do senior figures in the upper echelons of society.
The Royal Yacht Squadron is involved as is the Yacht Racing Association, which later became the RYA in 1952.
All of this is based on records recently obtained from the National Archive at Kew and the 'raw history' comprises 333 pages of letters, memos and file notes many of which are handwritten.
If this note whets your appetite, there is more in the Archives on the Club web site.  You can look at the original Kew material  – all 333 pages if you like –  and there is also a detailed commentary on the main records in the history.  That was based on an email sent to the Club some years ago by [Hortense] Protheroe an amateur historian with an interest in yacht clubs.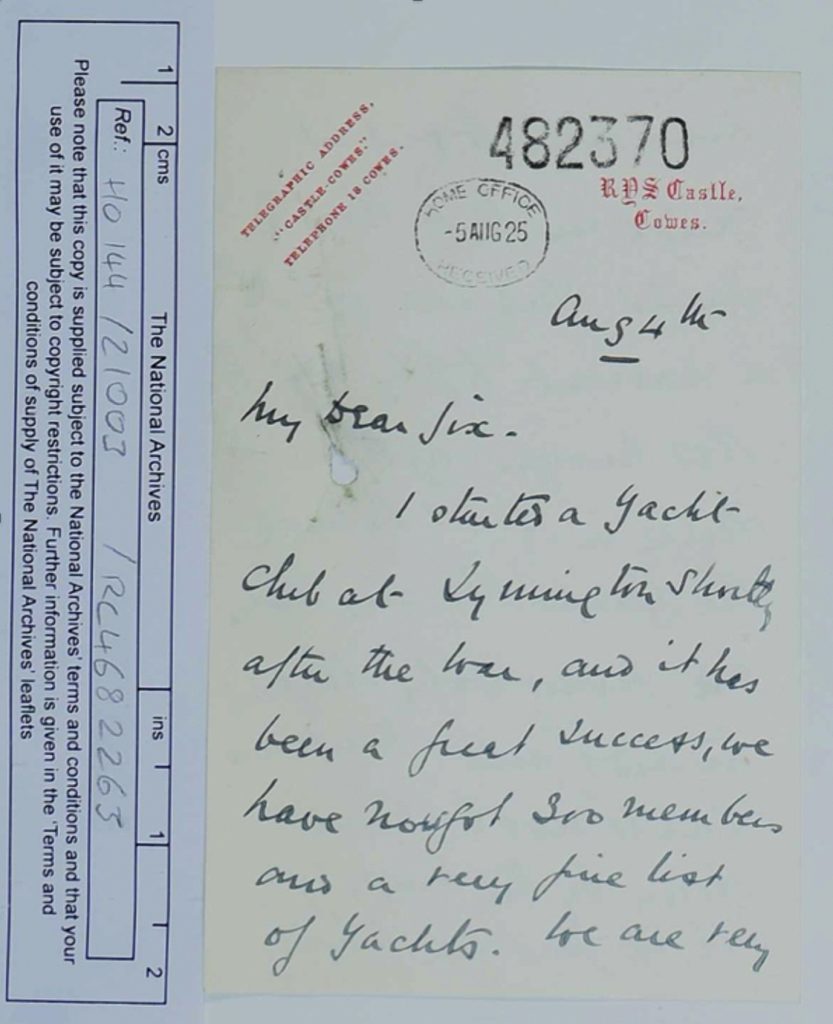 It all starts with a letter from Major Cyril Potter on August 4, 1925.  As you can see, he wrote it from the Squadron in Cowes and he is writing to his (presumably good friend) 'Jix', the Home Secretary Sir William Joynson-Hicks.
It goes on for five pages to set out the case for the Royal title claiming to have 'most of the big ones' by which he meant yachts like Tommy Sopwith's J Class Endeavour.He doesn't mention it here but later claims that members' boats amount to over 5,000 tons, a measure we seem to have forgotten to use.
Potter asked Jix to look favourably on a more formal application which follows later in the records.  Potter also says 'I think it shall not be turned down by the King if I put it to him', which says something about the circles our then Commodore moved in.
Many famous names make an appearance in the letters such as FE Smith, who became Lord Birkenhead.
Why did it take so long?  Many factors emerge from letters and Home Office file notes.  The relative youth of the Club which was only a few years old at the time of Potter's letter was perhaps the biggest stumbling block though there is some reluctance in the Home Office to giving way to Major Potter's 'pushiness' but that perhaps says more about Civil Servants at the time than it does Potter.
The right to use the title Royal was granted in 1938 when the Honourable Mrs Angela Brownlow was Commodore.